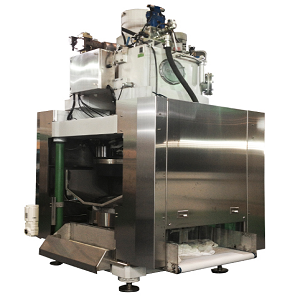 Add to Favorites
Share
Water Extraction Press
Payment

Origin

China Mainland

Minimum Order

10

Packing

Pieces
Product Detail
As an important part of the continuous washer for linen, the work efficiency of water extraction press directly affects the production efficiency of the whole tunnel washing machine. Weishi has carried out various innovative designs for this machine based on the hydraulic system development experience accumulated over a decade and the patented technologies obtained before.

? Energy-saving electronic control system

The hydraulic system is controlled by advanced electronic pump to avoid the disadvantages of the traditional valve-controlled hydraulic system, such as the high energy consumption, high oil temperature rise and hydraulic oil failure.

? Middle-high voltage hydraulic system

Rexroth® or Parker® original hydraulic element with reliable professional quality may be adopted for the independently-designed middle-high voltage hydraulic system. The large fuel tank design is favorable to prolong the service life of hydraulic element and hydraulic oil and the master cylinder and basket oil cylinder are manufactured by noted manufacturer. Large bore design is adopted to obtain greater oil cylinder output and reduce the burden of hydraulic pump based on smaller and safer system pressure. The rubber pressure pad is made by the Germanyprofessional manufacturer; optimal design is carried out for its connection with the installation disk to guarantee that it is free from falling and leakage during pressurization. Meanwhile, the connection ring is equipped with plastic seal ring to guarantee excellent sealing performance and smooth sliding. It is also provided with superior dehydration effect and the pressed water content is 46%.



3
YRS
ALL Machinery Co., Ltd.
China
Favorites